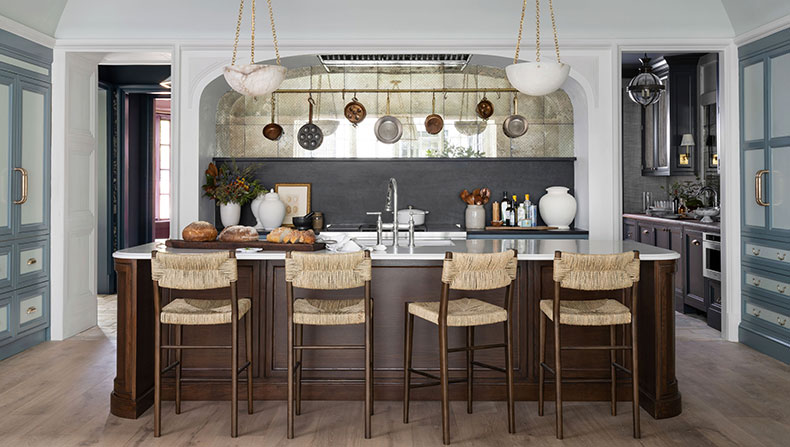 House Beautiful
Omega partners with House Beautiful
Omega Cabinetry partnered with the iconic House Beautiful team to breathe new life into a historic Tudor home with modern- vintage inspired finishes and materials. The kitchen is filled with functional storage and custom details that brought the designers' vision to life! The renovation of this 11,000 square foot home in Atlanta, Georgia took a full team of more than twelve designers, architects and contractors into every room, updating the use and experience of each space and has us swooning over these upgrades.
To learn more about the project, check out Omega's featured product and trends insights on our Masterbrand Design Blog.
Omega was a proud partner for the kitchen cabinetry on this project, the style and design requirements play perfectly into our Brand's portfolio of unique custom capabilities. Custom design, custom color, inset-furniture style construction and integrated appliances are just a few of our traditional craftsmanship capabilities that help bring your vision to life too.
Credentials: BRAND: House Beautiful / DESIGNER: Whittney Parkinson / BUILDER: Ladisic Fine Homes / PHOTOGRAPHERS: Robert Peterson and Tomas Espinoza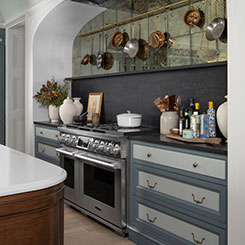 Custom Color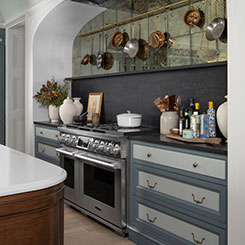 Color is as unique to the individual as picking out your wardrobe. Design and style trends have homeowners infusing a wider variety of color choices into their cabinetry spaces but often times, the same shades of blue or greens don't spark the same interest in most people. Omega's custom color program allow designers and consumers the opportunity to tailor color selections to the exact mood of the space and truly make it their own.
Learn about custom color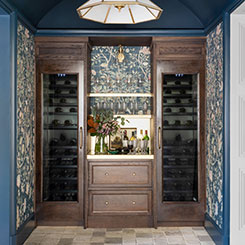 Cabinet Customization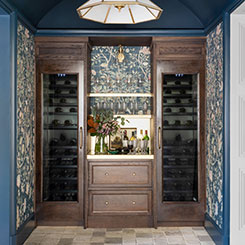 Our design research points to trends in specific-use spaces where storage and function are configured with intent. This type of intentional organization can help declutter our home environments and establish a sense of peace and bring control to the chaos. Omega's custom cabinet capabilities means our cabinets can work for whatever your configuration needs may be.
Learn More about customization
Inset Cabinetry
Inset cabinetry is considered a more furniture type of construction. It also requires more craftsmanship and precision during construction and installation, so it is also widely considered a more luxurious upgrade. As we see trends in more classic design influences regain popularity, inset is often the perfect choice to portray a more historically accurate aesthetic for period-based designs.
Learn About Cabinet Construction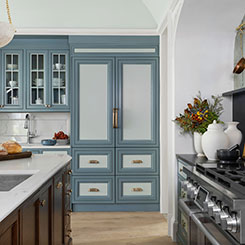 Custom Appliance Panels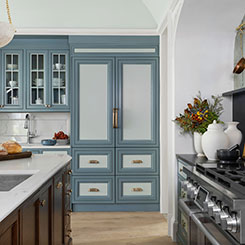 There are so many options that go into building the perfect kitchen palette; floors, counters, walls and cabinets to name the biggest influencers. Then the more decorative finishes start to layer on top with lighting, hardware and appliances, it can start to get challenging right at that point to keep the aesthetic cohesive and aligned with the desired functionality. Many kitchen designs are trending toward integrated appliances. This allows for more control over style direction with the vast finish palette while not having to compromise on metal appliance finish limitations. And for the cooking connoisseurs, the integrated appliance decision has the added benefit of blending the storage or cleaning appliances such as the fridge or dishwasher and bringing focus to the cooktop and stove.